Marabu Fashion Spray
Marabu Fashion-Spray 141, 100 ml
Spray your own Fashion!
Fantastic colour fun on textiles. Anyone can bring their favourite style to T-shirts, bags, cushions and curtains. Create your own textile designs, super fast and easy. The versatile, brilliant colour range offers the right
option for any taste, any season and any occasion.
The water-based textile spray paint in the convenient pump-action spray bottle is suitable for light-coloured textiles with up to 20 % man-made fibres. After fixing (iron: 30 x 30 cm, 3 min. at cotton setting/oven: pre-heated, 150 °C/8 min.) will be washable up to 40°C (wash and iron from reverse).
Whether free-hand spraying with colour transitions, stencilling, masking or tying off – the odour-free and light-fast paints allow endless techniques.
Marabu Fashion Spray in combination with Fashion Liner and Silhouette Stencils make fashion dreams come true.
Usage examples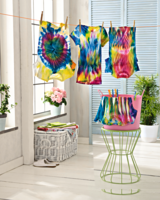 Product high-lights
• Textile spray paint
• Water-based, odourless, non-fading
• Brilliant colours
• Soft to the touch
• For light-coloured textiles with up to 20 % man-made fibres
• After fixing washable up to 40 °C
• Ideal for freehand spraying, stencilling and many other
techniques.