Marabu Fashion Spray
Marabu Beanie
Marabu Beanie Hat
One size
95% cotton, 5% elastane
white
The perfect hat for all winds and weathers. Fun to decorate with the Marabu fabric painting range e.g with Fashion Spray and Fashion Liner or using the "Trendy Beanie" Creative Set. Create a bespoke design by spraying freehand, stencilling, masking etc. The material is easily dyed and can be decorated with up-to-the minute patterns, phrases, on- trend batik effects or colour combinations.
Marabu Beanie VE = 1
Usage examples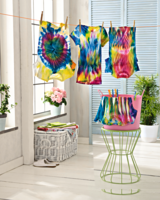 Product high-lights
• Textile spray paint
• Water-based, odourless, non-fading
• Brilliant colours
• Soft to the touch
• For light-coloured textiles with up to 20 % man-made fibres
• After fixing washable up to 40 °C
• Ideal for freehand spraying, stencilling and many other
techniques.