Marabu Fashion Spray
Marabu Fashion-Spray Creative Set SPORTY GYM BAG
Marabu Fashion Spray "Sporty Gym Bag" Creative Set
Sportily practical and uniquely designed using the Marabu Fashion Spray "Sporty Gym Bag" Creative Set.  With Fashion Spray you can transform the gym bag super quickly into a trendy accessory.  In combination with Marabu Fashion Liner you can add the perfect highlight or statement with individual decorations and fantastic sparkling effects.  Ready to go in style for swimming, shopping, sport and much more.   
The Set contains everything you need to design a fashionable gym bag: 1 x duffle bag/gym bag (size 40.5 x 41.5 cm), 1 x 100 ml Fashion Spray in black, 1 x 25 ml Fashion Liner in Shimmer reseda.                                                                                    
Wash first to remove fabric finish and softener.  Cover work surface and clothing completely before spraying, place card between fabric layers and if necessary wear disposable rubber gloves.  Spray Fashion Spray onto dry material and allow to dry.  Then fix either in a preheated oven (8 mins/150 °C) or by ironing through a cloth at cotton temperature (3 mins/ 30 x 30 cm).  The colour is now wash resistant up to 40 °C.  Always wash and iron decorated fabrics inside out.  Rinse the Fashion Spray nozzle after use.
Duffle bag/gym bag: 40.5 x 41.5 cm, 100% cotton
Inhalt: 1 x 100 ml 1719 50, 1 x 25 ml 1804 09, 1 x Gym Bag
Fashion-Spray 100 ml in black 073
Fashion-Liner 25 ml in shimmer-reseda 560
Gym Bag
Usage examples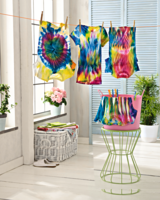 Product high-lights
• Water-based textile spray paints
• Odour-free, light-fast
• Brilliant colours
• Soft to the touch
• For light-coloured textiles with up to 20% man-made fibres
• After fixing washable up to 40°C
• Ideal for free-hand spraying, stencilling and many other techniques