Marabu Fashion Spray
Marabu Fashion-Spray Trend-Set COSMOPOLITAN
Marabu Fashion Spray Trend Line "COSMOPOLITAN".

Refreshing colour fun with Marabu Fashion Spray Trend Set "COSMOPOLITAN". With this combination of trendy and bright colours your are guaranteed to stand out from the crowd. T-shirts, bags, cushions or curtains can be embellished with your own favourite style – super fast and easy.
In combination with Marabu Fashion Liner you can create the perfect highlights with individual embellishments and great shimmer effects.
The Marabu Trend Set "COSMOPOLITAN" turns any textile into a trendy, unique piece.
Contents: 3 x 100 ml 1719 50
Fashion Spray 100 ml in Raspberry 005
Fashion Spray 100 ml in Reseda 061
Fashion Spray 100 ml in Tangerine 225
1 Fashion Liner 25ml in  Shimmer Violet 596
Usage examples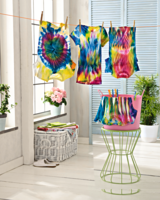 Product high-lights
• Water-based textile spray paints
• Odour-free, light-fast
• Brilliant colours
• Soft to the touch
• For light-coloured textiles with up to 20% man-made fibres
• After fixing washable up to 40°C
• Ideal for free-hand spraying, stencilling and many other techniques