Marabu Fashion Spray
Marabu Fashion-Spray Set "Tie Dye"
Bullseye, spiral or stripes? Super easy with Marabu Fashion Spray.
Wet the fabric thoroughly, fold and tie with rubber bands, spray – done!
The bold colour combinations will transform t-shirts and other textiles in no
time into unique favourites!
Contents:
- 1x Fashion-Spray 100 ml, 005 Raspberry
- 1x Fashion-Spray 100 ml, 020 Lemon
- 1x Fashion-Spray 100 ml, 258 Marine Blue
- 10g Rubber Bands
- Instructions for various techniques
Usage examples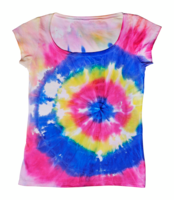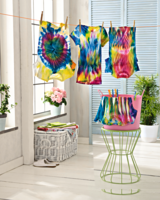 Product high-lights
• Textile spray paint
• Water-based, odourless, non-fading
• Brilliant colours
• Soft to the touch
• For light-coloured textiles with up to 20 % man-made fibres
• After fixing washable up to 40 °C
• Ideal for freehand spraying, stencilling and many other
techniques.